New Designs for School
Experts Weigh in on Competency-Based Education
April 12, 2016
Topics
Competency-based Education
New Designs for School
New Designs for School
We've all had the experience of truly purposeful, authentic learning and know how valuable it is. Educators are taking the best of what we know about learning, student support, effective instruction, and interpersonal skill-building to completely reimagine schools so that students experience that kind of purposeful learning all day, every day.
Learn More
NGLC's most recent chat on Competency-based Education drew a large and engaged group of featured guests and participants. I think that's because competency-based approaches to learning—where learning becomes stretched by pace and path—are a game-changer for schools that are focused on deepening learning outcomes for students. Featured guests and participants tackled five key questions:
1. Competency-based education: what is it, what isn't it?
2. What components of competency-based education are making a difference for students?
3. How does competency-based education influence or impact the role of teachers and teaching?
4. What is the greatest challenge you've experienced as you implemented CBE?
5. What can educators and others do to make competency-education stronger and even better?
 
View image on Twitter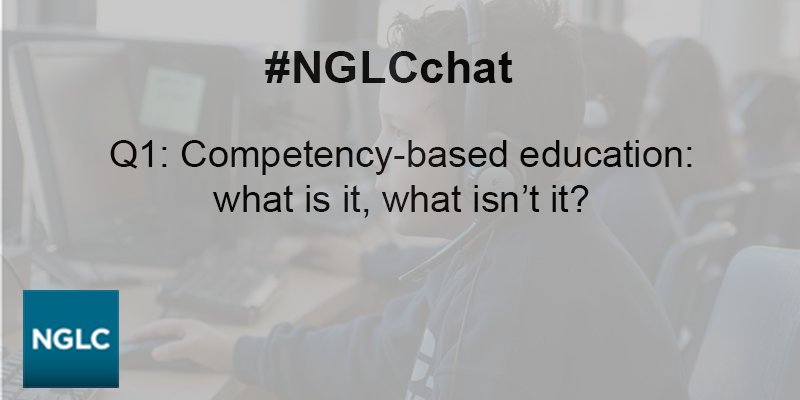 Follow NextGenLC @NextGenLC Q1: Competency-based education: what is it, what isn't it? #NGLCchat
7:03 PM - 7 Apr 2016
Competency-based education...
Puts the learner at the center, focuses on growth, and acknowledges that kids are smart in different ways
Focuses on students reaching proficiency, every step of the way with appropriate supports
Enables students to progress based on mastery, not by seat time or credits
Enables student voice, choice, and agency
Fundamentally restructures the learning process by employing a pedagogical philosophy of instruction and assessment techniques and reporting systems that build upon and leverage students' learning
View image on Twitter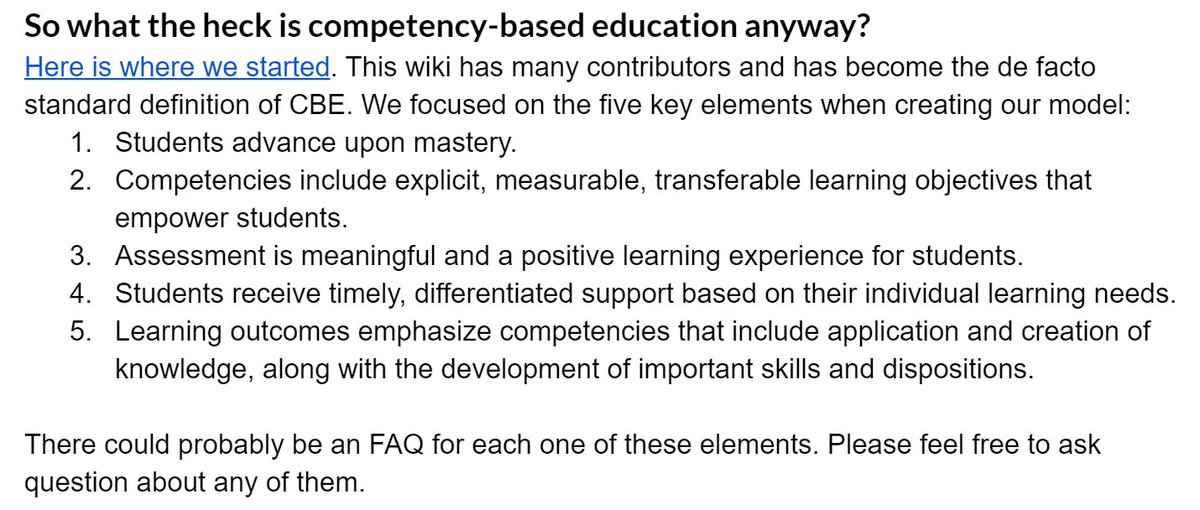 Follow mrpedagogy @mr_pedagogy A1.1 We started with and wholly adopted this definition from @CompetencyWorks: http://bit.ly/CompWorks  #NGLCchat
7:05 PM - 7 Apr 2016
View image on Twitter
 Follow chris sturgis @sturgis_chris A1: CBE is success, not sorting; empowered, not compliant; growth not fixed; mistakes part of learning. #NGLCchat
7:08 PM - 7 Apr 2016
Competency-based education is not...
Computer-based assessment and instruction
An initiative or new assessment or grading schema
A single classroom–based approach
"Just teaching to the standards"
No pace or unlimited time to reach mastery
 Follow Mark Kostin @nessc_me A1 CBE *is not* merely blended or anytime/anywhere learning. Nor is it simply about pace. So much more than that! #NGLCchat
7:09 PM - 7 Apr 2016
View image on Twitter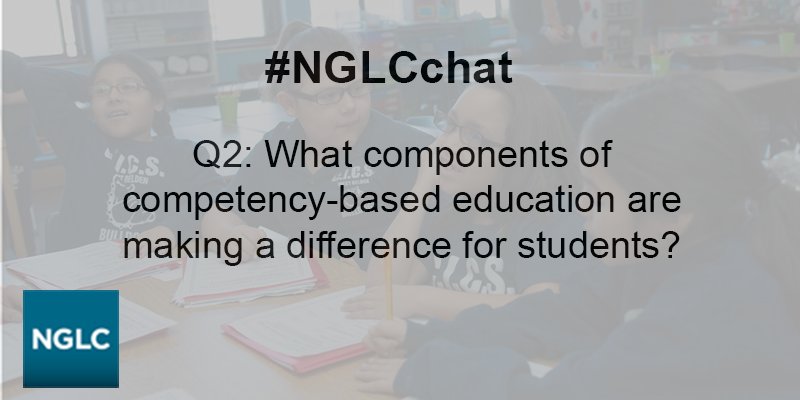 Follow NextGenLC @NextGenLC Q2: What components of competency-based education are making a difference for students? #NGLCchat
7:13 PM - 7 Apr 2016
Components of competency-based education that are making a difference for students:
Moving away from a time-based model enables students to learn at their own pace and results in an increase in engagement, lifelong learning, and enduring understanding
Embracing a culture where mistakes are a celebrated part of learning
Student agency—students owning their own learning—increases and enables greater personalization and deeper learning
Students deciding how they want to show their learning is empowering and enduring
 Follow Jason Ellingson @jasonellingson A2: #CBE allows for a greater focus on performance assessment. #NGLCchat
7:14 PM - 7 Apr 2016
 Follow Jonathan Vander Els @jvanderels A2: Multi-Tiered Systems of Support=crucial in a #competencyed system. They allow learners to be supported/challenged as needed. #NGLCchat
7:15 PM - 7 Apr 2016
View image on Twitter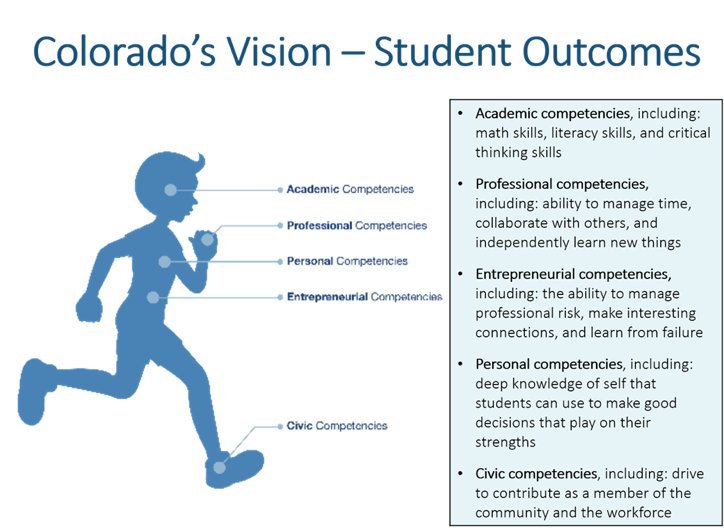 Follow Scott Fuller @TheScottFuller A2: Whole child competencies & proficiency-based scoring are helping to redefine success in learning. #NGLCchat
7:21 PM - 7 Apr 2016
View image on Twitter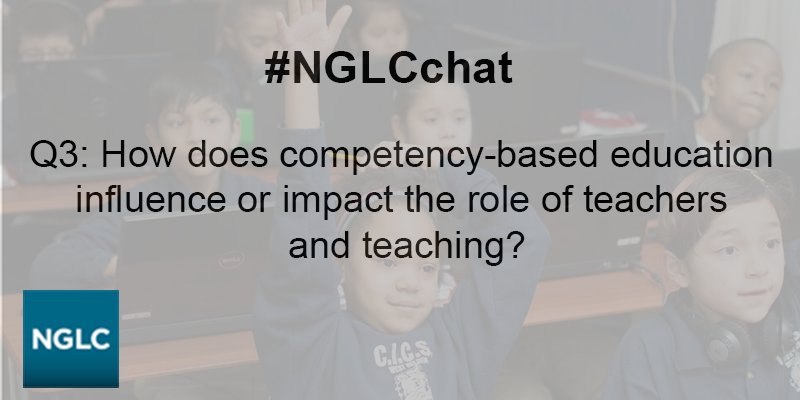 Follow NextGenLC @NextGenLC Q3: How does competency-based education influence or impact the role of teachers and teaching? #NGLCchat
7:24 PM - 7 Apr 2016
How competency-based education influences and impacts the role of teachers and teaching:
Collaboration is key—colleague to colleague and teacher to student.
The purpose and meaning of grades change in a competency-based approach and requires a focus on assessing mastery.
Competency-based education requires a shift from direct instruction as the primary instructional move.
It requires a shift from delivery of curriculum to a focus on learning.
Competency-based education introduces personalized, competency-based learning for teachers.
It enables teachers to spend more time working with students and enables students to reflect on their learning
 Follow Jason Ellingson @jasonellingson A3: Teachers truly must become "students of their students" in a #competencyed environment. #NGLCchat #ASCD16
7:24 PM - 7 Apr 2016
 Follow chris sturgis @sturgis_chris A3 #competencyed More empowered teachers using professional judgement to help students learn #nglcchathttp://ow.ly/10oll6 
7:25 PM - 7 Apr 2016
 Follow Rose Colby @rose_rosecolby A3 CBE is responsive teaching to the evidence the learner presents. It is a dynamic response. #NGLCchat
7:26 PM - 7 Apr 2016
View image on Twitter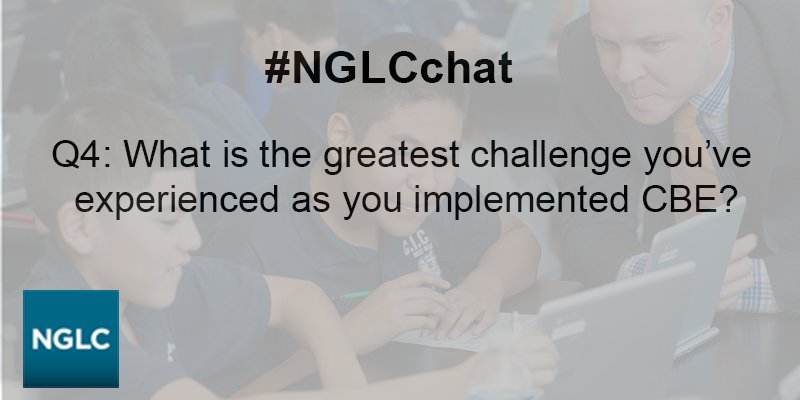 Follow NextGenLC @NextGenLC Q4: What is the greatest challenge you've experienced as you implemented #CBE? #NGLCchat
7:36 PM - 7 Apr 2016
Greatest challenges in implementing competency-based education:
Enabling policy conditions, district support, and building leadership
Fostering community, stakeholder, and practitioner engagement and understanding around the shift to competency-based education
Emphasis on coverage over learning and growth because of state accountability and testing, historically (there are new opportunities, though, with ESSA)
Hard for teachers to personalize without self-directed learning practices on the part of students
Fixed mindsets, seeing competency-based education as a technical reform rather than transformational, and ignoring the change in culture
 Follow David Richards, Ph.D @DrDaveFPS A4: Greatest challenge is the shift to a new model of learning. Educating 2 generations (Ss and Parents) at same time. #NGLCchat
7:37 PM - 7 Apr 2016
 Follow Stefanie Blouin @StefanieBlouin A4: Research shows competency-based progression is hardest personalized learning strategy to implement http://ow.ly/10oQgo #NGLCchat
7:38 PM - 7 Apr 2016
View image on Twitter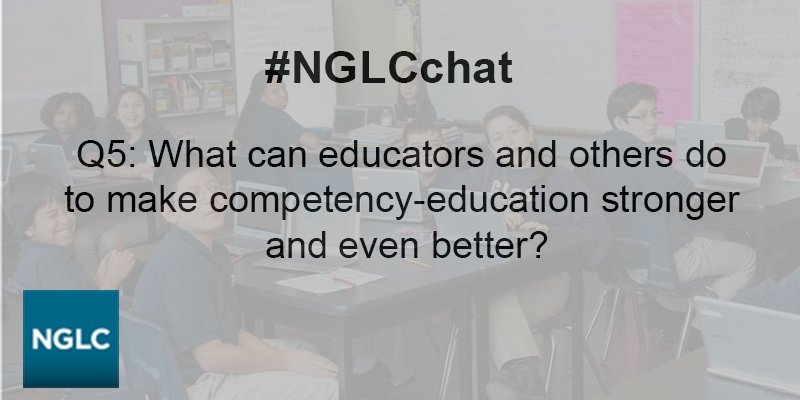 Follow NextGenLC @NextGenLC Q5: What can educators and others do to make competency-education stronger and even better? #NGLCchat
7:48 PM - 7 Apr 2016
What educators and others can do to strengthen competency-based education:
Engage stakeholders and develop a shared understanding of why—why competency-based education is better for learners
Expand competency-based education beyond place and time-based models to allow students to go where their interests, dreams, and passions take them
Build a culture of collaboration and growth
Work in professional learning groups to support each other and leverage what's working
Invest the time to change assumptions, values, and approach
Help educators create solutions for meeting the needs of learners who are two or more years below grade level
Leaders can support their staff by developing personalized competency-based professional learning opportunities
Involve students in the design and refinement of competency-based approaches
 Follow Michelle M Finn @mfinnCBEcoach A5: For adult part...collaborate, observe each other, give feedback, create a global movement, shout it from the rooftops :) #NGLCchat
7:49 PM - 7 Apr 2016
 Follow Jonathan Vander Els @jvanderels A4: Moving all staff forward together in our understanding of #competencyed - Focused, embedded PD is imperative. #NGLCchat
7:30 PM - 7 Apr 2016